Ulster Football Final: Cavan stun Donegal with 1-13 to 0-12 victory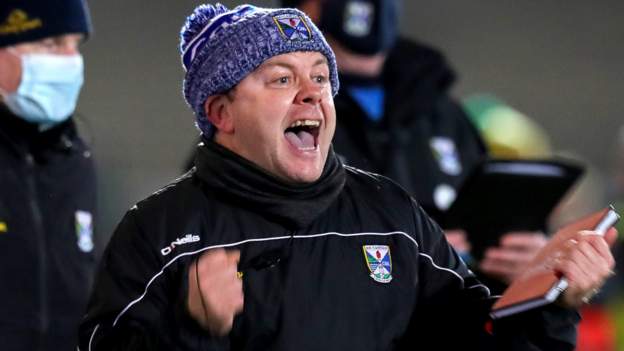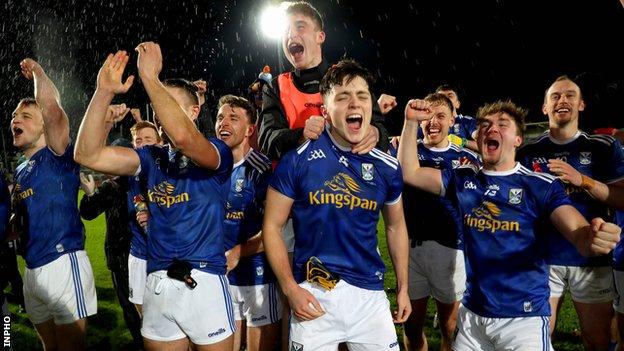 Cavan caused a huge upset in the Ulster Football Final as they shocked Donegal with a deserved 1-13 to 0-12 victory at the Athletic Grounds.
The Breffnimen's goal was the final score of the game as Conor Madden fired to the net after Donegal keeper Shaun Patton's attempted punched clearance.
But this was no smash and grab exercise by Mickey Graham's side.
Their ferocious commitment unhinged Donegal as Cavan won despite being given two controversial black cards.
Donegal were fortunate to lead 0-9 to 0-7 at half-time and extended that margin to three after the resumption.
But Cavan, 10-1 outsiders with some bookmakers, refused to bow to the seemingly pre-ordained script as they fought back to lead by the 61st minute and while Donegal then got on terms again, the Breffnimen pushed on as a magnificent Oisin Kiernan point was followed by Madden's injury-time goal.
Madden, despite being named man of the match after coming on against Down last week, didn't start but came on three times during Sunday's decider before sealing Cavan's win which secured their county's first provincial title since 1997 as they set up an All-Ireland semi-final with six-in-a-row seeking Dublin.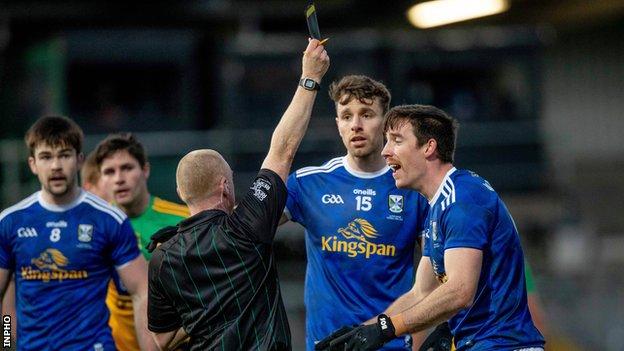 Cavan's players were heroes to a man but if you were to pick out individuals, Thomas Galligan's display as he went on to be named man of the match despite being forced off in the first half by a blood injury and goalkeeper Raymond Galligan's performance would come to mind.
Galligan made a brilliant pointblank save to deny Donegal's Jamie Brennan a goal after McKiernan had put Cavan 0-12 to 0-11 ahead in the 60th minute.
But in truth, Cavan created the majority of the goal chances with Patton denying Martin Reilly at the other end six minutes later and James Smith having missed an earlier glorious three-pointer opportunity.
Going into the match, Cavan were given little chance of preventing a Donegal Ulster three-in-a-row but while the holders did exploit Killian Brady's harsh first-half black by hitting five unanswered points, it was a strangely nervous and inhibited display by Declan Bonner's side.
Their normal free-flowing running of football was absent as Ryan McHugh and Eoghan Ban Gallagher struggled to make their trademark incisions into enemy territory.
After their brilliant displays to date in the championship, young forwards Michael Langan and, in particular, Jamie Brennan were very subdued with Peadar Mogan's handling letting him down even though he did get on the ball several times.
With Michael Murphy also struggling to make an impact amid the ravenous appetite for work exhibited by the opposition, Donegal full-back Neil McGee attempted to rally his colleagues with a number of sorties forwards on a chastening afternoon for the overwhelming favourites.
Right from the off, it was evident that this was not going to be the Donegal demolition predicted by virtually every pundit.
James Smith, whose return after injury meant Madden again started from the bench, kicked Cavan into the lead with a fine score and while Mogan levelled, points from Kiernan, Gerard Smith and Ciaran Brady, again all from play, put the Breffnimen three clear by the eighth minute.
The margin was still three at 0-5 to 0-2 when Killian Brady was harshly black carded after being adjudged to have hauled down Ryan McHugh.
Donegal exploited exploited their numerical advantage with five unanswered points in as many minutes which included two Patrick McBrearty efforts.
At that stage, it looked as if Donegal had regained their composure as they fashioned the game's first real goal chance with Gallagher's effort being brilliantly blocked by Cavan's Chris Conroy.
Points from Niall O'Donnell and Langan put Donegal three up at 0-9 to 0-6 but Cavan refused to wilt with a McKiernan score leaving only two in it at the break – following a lengthy delay after Galligan was forced off by an apparent accidental elbow by Caolan McGonagle.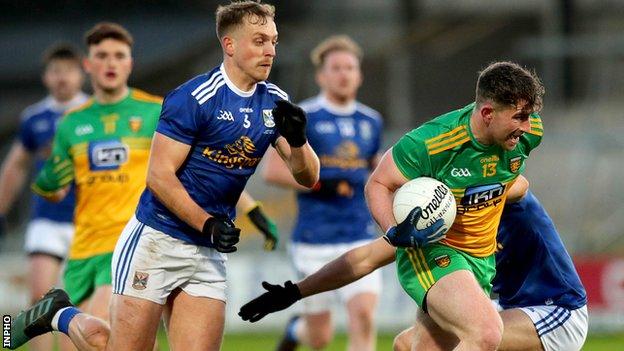 If Donegal hoped that Cavan were going to run out of puff in the second half following their first-half efforts, they were severely mistaken.
Incredibly the Breffnimen upped their intensity with a display reminiscent of Tyrone's famous hunting-in-packs resolve in the 2003 All-Ireland semi-final against Kerry.
Granted a McBrearty free did put Donegal three ahead immediately after the resumption but Cavan hit the next two scores and also saw Smith wasting his goal chance as he pulled his shot just wide with Patton beaten after a superb Ciaran Brady pass.
Not even another controversial black card could put Cavan off their stroke as Madden was harshly sin-binned in the 53 minutes for a challenge on Ryan McHugh seconds after kicking a point to cut Donegal's lead to 0-11 to 0-10.
As panic seemed to set in on Donegal, Langan and substitute Daire O Baoill both fired bad wides before Martin Reilly levelled in the 59th minute with Cavan still down to 14 men.
Neil McGee's foul on Reilly allowed McKiernan to kick Cavan ahead in the 60th minute before keeper Galligan produced his big moment by denying Brennan's pointblank goal chance.
From the rebound, Donegal worked a score for McGonagle but the belief was still oozing out of Cavan and Kiernan swung over a magnificent point with his left boot to restore the Breffnimen's lead.
Patton's brilliant save to deny Reilly looked a potential late turning point but Cavan were having none of that as they punished the Donegal keeper's misdirected punch in injury-time with Madden fly-kicking direct to the net to seal their momentous win.
Cavan: R Galligan; J McLoughlin (0-1), P Faulkner, L Fortune; G Smith (0-1), K Clarke, C Brady (0-1); J Smith (0-2), K Brady; M Reilly (0-1), G McKiernan (0-2, 2f), O Kiernan (0-2); C Conroy, T Galligan (0-01), C Smith. Subs: C Madden (1-2) for C Smith (blood twice), for T Galligan (blood) for C Smith 35, N Murray for Conroy 56, C Smith for Reilly 73
Donegal: S Patton; E Ban Gallagher, N McGee, B McCole; R McHugh (0-1), P Brennan, P Mogan (0-1); H McFadden, C McGonagle (0-2); E McHugh, N O'Donnell (0-2), M Langan (0-1); P McBrearty (0-4), M Murphy (0-1), J Brennan Subs: A McClean for P Brennan 45, D O Baoill for E McHugh 56, C Thompson for McBrearty 58, J McGee for O'Donnell 69
Referee: B Cassidy (Derry)