Hockey Canada's public flogging sheds light on country's sport crisis
5 min read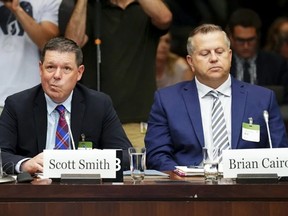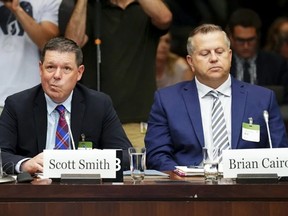 Article content
Before the Hockey Canada sexual assault scandal commandeered media, public and political attention, as the game so often does, advocates for culture change in soccer, gymnastics and many other sports were demanding to be heard.
Article content
Federal sport minister Pascale St-Onge said she was listening. She said she cared about the plight of athletes who had suffered sexual, psychological, physical, verbal and emotional abuse. She called it a crisis. She gathered sport leaders to talk about next steps. She championed the installation of Canada's first sport integrity commissioner and the Liberal government ponied up $16 million to fund the office's initial efforts to gather and investigate reports of abuse across all sport.
Article content
But she has so far ignored repeated calls from gymnastics advocates, in particular, to get to the root of systemic abuse issues in that sport and others. Continually treating the symptoms won't lead to a cure.
However, Canadian Heritage committee hearings held to examine Hockey Canada's handling of an alleged gang sexual assault of a young woman by junior-aged players in 2018 exposed Sport Canada's abject failure to provide oversight to a national sport organization it funds with millions of dollars in public money. Committee members spoke openly about "blowing up" Sport Canada and the need for new leadership in Hockey Canada.
Article content
The public flogging of those organizations surely will not occur in a vacuum. Sport Canada dispenses funds to many other national sport organizations, and most if not all of them have dealt with recurring issues of maltreatment. If a forensic audit of Hockey Canada is required to fix its systemic abuse issues, then other sport organizations are likely to ben
efit from the same level of inspection.
"During these hearings it was very clear on one thing, the lack of oversight and accountability that Sport Canada has over sport," said Rob Koehler, director general of Global Athlete, an advocacy organization. "For years, sport has been able to operate without any oversight, with a lack of transparency, acting like they are in the wild, wild west, doing whatever they want and no one makes them accountable. With that, it has opened people's eyes. Having discussions with committee members over the past couple of days, they have definitely recognized that while hockey is one issue, it's a bigger systemic problem across Canadian sport. Neglect and abuse of athletes have gone untouched for years."
Article content
Koehler, who attended the hearings, has long advocated for a pan-sport judicial inquiry to expose the Canadian system's critical flaws, but also to celebrate what it gets right. He has come away from Ottawa hopeful that the idea of an inquiry is building the necessary political momentum.
"I believe the door is open for that. I feel there could potentially be bipartisan support. If the Canadian government is going to bring sport in line with the values of Canadians, which is about safety and protection and transparency, then this needs to happen in order for it to get there. Because there is a serious toxic culture of abuse across sport. It has been highlighted with Hockey Canada, but it has also been highlighted with the gymnasts, the bobsled and skeleton athletes, the boxing athletes and soccer athletes, and no longer can they be ignored."
Article content
Hockey Canada has the spotlight today because of the serious nature of the allegations, and because hockey always sucks up all the oxygen in the room. But the broader takeaways from those hearings are too obvious to ignore. Sport Canada is failing gymnasts, soccer and rugby players, boxers and winter sport athletes too.
Erin Willson hears tales of abuse from athletes almost every day. She heads the advocacy organization AthletesCAN, which studied the prevalence of abuse in sport in 2018 and 2019.
"We knew at that point that this was going to be a problem across sports and this is a cultural issue," she said Thursday. "It's not a one-sport issue, it's literally an every-sport issue, and it comes down to underlying culture. There has been a lack of governance on this issue, a lack of accountability on this issue."
Article content
She says a win-at-all-costs mentality puts bodies and minds at risk and creates an unhealthy acceptance level for abuse. Though her organization is not advocating for a judicial inquiry, AthletesCAN recognizes the need for action at all levels.
"We are in a culture crisis in Canadian sport. We need people to acknowledge that, so if an inquiry is what it's going to take to make that happen, then that's an option," she said. "We do need to address the culture issue and what we value as Canadians who have athletes represent us. There is absolutely a way forward. I don't think anyone at this point will tolerate status quo, because that hasn't worked and it led to this problem."
dbarnes@postmedia.com